Authors' Notes: First, I make every effort to be as accurate as possible. The first sections are drawn directly from my Squadron Yearbook (very unusual for a unit to have one) and my own bailable memories of events that occurred over 30 years ago. I have asked others to write short sections and have made liberal use of the photos of others as I put this History together. Where possible, photos are attributed but in all cases copyrights (photos and the written word) are limited to the downloading for your own enjoyment. Other use requires the permission of the owner. Enough leagelesse... Side bar: Images shown are reduced for quick loading. In most cases, a full size image is available simply by clicking on the image.

In the beginning;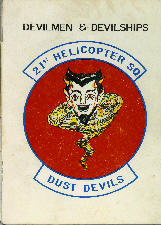 This is the cover of our Squadron Yearbook. The following are direct quotes from it regarding our early history as a unit prior to 1Jul67.

A Condensed History of the 21st Helicopter Squadron


Even as the word "helicopter" suggests in the Air Force, the history if the 21st Helicopter Squadron is quite brief. The 21st was activated on 9Jul56, for the purpose of providing the US Army with air support in a fashion similar to the TAC Troop Carrier Squadrons. Authorized 38 officers and 91 airmen to fly and support the H-21 "Flying Banana", the unit was assigned 29 officers and 89 airmen and attached to the 63rd Troop Carrier Wing, Donaldson AFB, South Carolina.

The Army, however, declined all support from the Air Force helicopters, and the 21st Helicopter Squadron turned to fly airlift support, search and recovery missions, and also cooperated with a communications group in an experiment to lay communications lines by helicopter. Prior to inactivation on 15Oct57, the unit flew photo, airlift, and radiological survey missions during atomic testing at the Nevada Test Site.

On 1Jul67, the unit was reactivated and on 15Jul67 assigned to Shaw AFB, South Carolina, to organize, train, and equip, in preparation for immediate overseas movement. Upon arrival at its SEA destination, Nakhon Phanom RTAFB (NKP), Thailand, the unit completed additional training and in-theater testing the 21st demonstrated operational capability in its primary mission. The virtually unlimited capabilities of the helicopter also provide NKP with a base defense and flare drop capability, civic action support, SAR availability, COIN support, EOD Alert, and regular airlift capability.

That's the "official version" printed in 1968. There was so much more behind those words that could not be printed in those years. The mission of the 21st, the missions of the units assigned to Thailand, and what came to be known as "THE BIG PICTURE" that we would be years in discovering.